Wake up to the sweet smell of cinnamon and brown sugar oats! (VIDEO)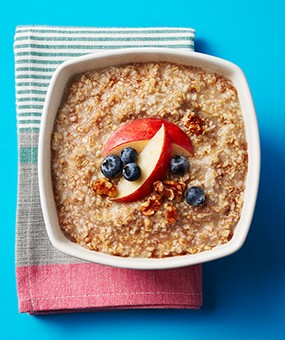 apple cinnamon overnight oats
 Make breakfast while you're making zzzs. Try this apple cinnamon overnight oats recipe. Slow cook the ingredients together the night before and wake up to a tasty meal ready to go.
2 cups steel-cut oats
6 cups water or milk
½ cup dried cranberries
1/3 cup chopped walnuts
¼ cup ground flaxseed meal, if desired
2 teaspoons ground cinnamon
¼ cup packed brown sugar
Milk or yogurt for serving
Toppings – apple slices, blueberries, walnut pieces
directions
Combine oats, water or milk,* cranberries, walnuts, flaxseed, cinnamon and 1 teaspoon salt in slow cooker. Cover and heat on high 2 hours or on low about 6 hours until oats are tender and water is absorbed.
Stir in brown sugar. Serve warm with milk or yogurt and toppings.
Variations:
Apple Cinnamon Oats — top with apples and additional cinnamon.
Strawberry Almond Oats — top with sliced strawberries and almonds.
Double Cranberry Nuts — top with additional dried cranberries and walnuts.
*Note: Nutrition was calculated using water and not including topping variations.
Additional Nutrient Information Per Serving (278g):
28% DV Fiber, 0% DV Vitamin A, 6% DV Vitamin C,
4% DV Calcium, 15% DV Iron
Tip: Use of a slow cooker-liner for easy clean-up is recommended.
RecID 17568
nutrition information per serving
270 calories; 7g total fat; 1g total saturated fat; 0mg cholesterol; 10mg sodium; 48g carbohydrates; 7g fiber; 16g total sugars; 7g protein
These nutrition facts are calculated according to the ingredients listed in this recipe. Any substitutions will change these facts. Although we strive for accuracy, please note that food manufacturers occasionally change their food formulas, which could affect the calculations as shown.