Your Partners Parenting Style, Based On Their Zodiac
Think about your significant other.  Do you really want to procreate with that person, or better yet –should you?  Let the stars give you an answer.  The zodiac can tell you a lot about what kind of a parent your partner will be to your future children.  Before you start trying for a little one, make sure that they're cosmically destined to be a stand up parent that you have in mind to raise an incredible human being.  This is how your partner will parent, based on their zodiac.
Aries
March 21-April 30
(Energetic, Cheerful, Reckless)
Your partner will go to cheer for your family every single time. They're a leader, and they face any conflict head-on, so teenage years can be a struggle for an Aries parent. Teenagers love to butt heads with their parents, and Aries always push back with full force (Hence the fact that their zodiac symbol is a ram).
Taurus
April 21-May 21
(Determined, Productive, Loyal)
A Taurus parent is a loyal and protective pillar of strength in any family. They resist change, so watching your children grow into adults may be difficult for them. But they'll end up being your child's best friend.
Gemini
May 21-June 20
(Happy, Youthful, Knowledgeable)
Everything is on the table for a Gemini parent. Your family will never run out of things to talk about, and communication will be frequent and valuable. They're great at teaching, so explaining things to a child will come easy to them. Inconsistency in your partner's behavior might be hard on a child, so you might have to step up to be the stable parent.
Cancer
June 22-July 22
(Protective, Sensitive, Loving)
Your Cancer parent is going to be the person in the front row of every recital and graduation crying like a baby. They are deeply emotional and loyal parents who take on their own child's feelings as their own. Empathy is a great parenting skill, and your child will never doubt that they have someone who loves them.
Leo
July 23-August 22
(Loyal, Generous, Warm Hearted)
Your kids will have a childhood filled with adventure, with your partner leading the way. They'll make sure that your kids have great childhood memories. Sometimes Leos have trouble letting go of the reigns, so they can have trouble letting a child break off on their own.
Virgo
August 23-September 23
(Critical, Down To Earth, Private)
As long as your Virgo partner understands not to try to raise a perfectionist child, they are going to be a fantastic parent. They're extremely hands on and you'll find them keeping everyone in your family on track. Chore charts, carpool schedules and homework is going to be handled beautifully.
Libra
September 23-October 22
(Affectionate, Well-Balanced, Communicative)
They may not be the decision maker in your household because they have trouble making up their mind, but they are a trustworthy parent. Libras love deeply, and put an emphasis on listening and understanding others. Your child will have a parent that they can confide in.
Scorpio
October 24-November 22
(Intense, Focused, Powerful)
Scorpios tend to be helicopter parents, and love to snoop. If they can take a step back and accept that parenthood is full of unknowns, they'll be better off. They are very focused and dedicated to their family, and build strong relationships with their children.
Sagittarius
November 23-December 21
(Care-free, Positive, Sincere)
You might feel a tinge jealous of your Sagittarian partner, because they might seem like your kid's favorite. They have a magnetic personality because they're fun loving and playful. Their energy lets them run around with kids and hold their attention. As long as they stay focused on family, your partner will make sure everyone is having a good time
Capricorn
December 22-January 19
(Ambitious, Organized, Thoughtful)
A Capricorn parent makes sure that their family never goes without. They're driven and extremely good with money, so your children will learn practical skills from them and have an inherited work ethic. They're realistic, and your children will always be able to depend on them.
Aquarius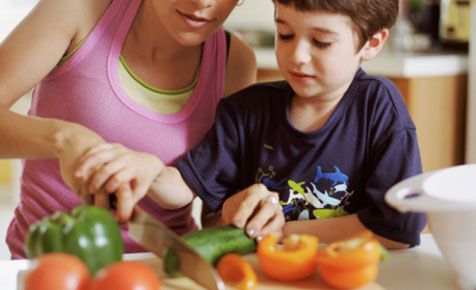 January 20-February 18
(Intellectual, Logical, Fun-loving)
Your partner is going raise your children to go against the flow, and they'll lead by example. They'll teach your child to care about others and put energy toward causes they care about. The challenge for an Aquarian parent is that raising an activist might not always work in their favor, so they have to accept push back on certain topics.
Pisces
February 20-March 20
(Creative, Kind, Sensitive)
Don't expect your Pisces partner to take many of the disciplinary responsibilities, it's just too hard for them. Do expect your partner to incorporate creativity into their parenting techniques and put an emphasis on free thinking in your home. You love your partner because they're a free spirit, and your children will too.
Do you think that your partner's parenting horoscope looks promising? Tell us in the comment section.