8-Yr-Old Leaves Mailman a Note—When Mom Catches This on Hidden Camera, It Explodes on National News!!
"He didn't know that I had a camera on my house."
A tiny act of kindness is totally taking over news headlines because of one little Virginia boy with a heart as BIG as they come.
Henry Bailey has been serving the McDaniel family for over two decades, diligently delivering mail to their doorstep with a smile.
8-year-old Carmine McDaniel has always had a particular fondness for the man he calls "Mr. Henry," and he just lights up when he shows up on their porch step. In fact, the young boy looks up to him so much that he even went as Mr. Henry for Halloween.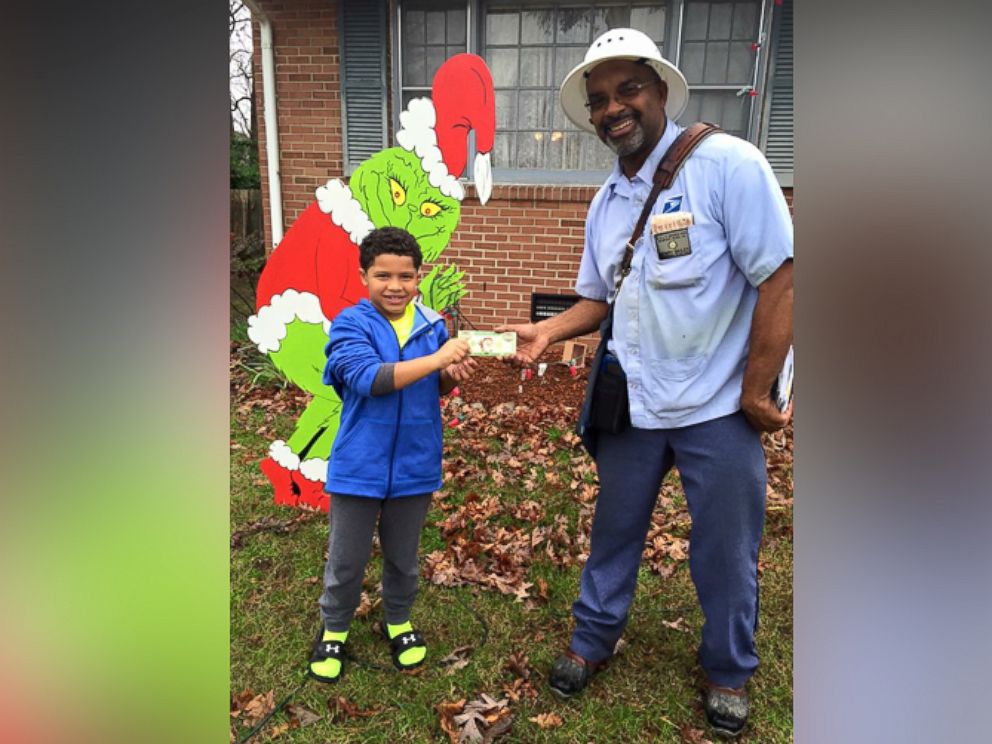 Henry's history with the McDaniels goes so far back that he was also Carmine's mom's mailman when she was growing up.
"He's really just a warm person," said Carmine's mother, Terra McDaniel, in an interview with ABC News. "He's been a mailman for 21 years and before that, was a retired vet. No matter what kind of weather, it can be rain, storm or even a hurricane, he's always so friendly and nice."
Because he's done so much for them, Carmine thought the least he could do to repay his hometown hero was to leave him something to drink on a scorcher of a day last week.
The heat index was projected to reach an all-time peak of 105 degrees, and a heat advisory was issued for the afternoon until 8pm.
So Carmine placed a cooler out on the front porch with a note saying, "Mailman: Water & Gatorade in cooler. Have a good day."
"I just thought because it was really hot outside and I didn't want him to maybe pass out or anything, because they are really important so people can pay their bills and stuff like that and I didn't want him to pass out pretty much," said Carmine.
When Henry saw the note, he was overjoyed by the simple gesture.
What he didn't know is that there was a home security camera awaiting his reaction. This wasn't the first time that Carmine had provided Henry with drinks on a hot day, but it wasthe first time that the family got to witness the priceless look on his face when he saw the ice-chilled relief.
"Oh man, water and Gatorade," Henry was captured saying on the video. "Thank God. Thank you."
"He didn't know that I had a camera on my house," said Terra. "I think my heart just melted. It was nice to see an honest, genuine reaction."
She sent the footage to her local news station, and it quickly gained national attention."It shows the innocence of a child because he thinks it's what he's supposed to do,"
Terra added
. "He doesn't see it as a big deal. When other people say something nice, it makes you think, 'Wow, maybe I am doing a good job as a parent.'"