This Woman Places Crayons Inside Her Heated Glue Gun. But, The End Result? WOW!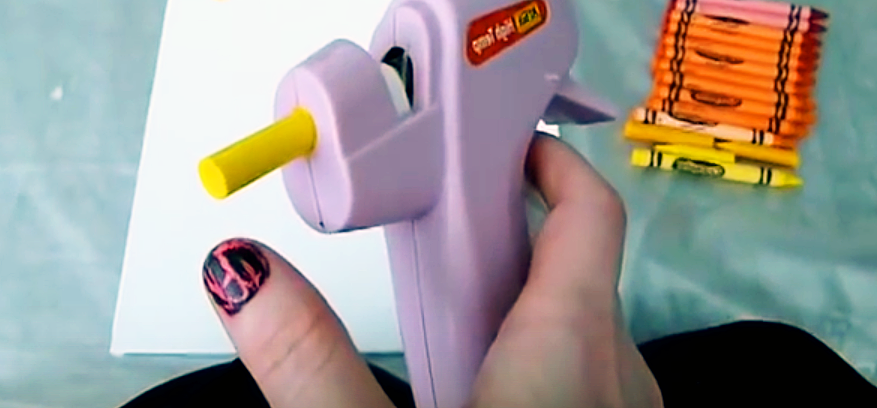 If you've ever had kids, or even lived with them temporarily, then you likely have an abundance of crayons somewhere in the house. The colorful wax sticks are a classic childhood staple and it's easy to see why. Crayons are fun and simple to use at any age. Plus, they're very inexpensive, widely available, non-toxic, and a lot less messy or permanent than most paint and markers are. They also last a lifetime and never become unusable or dry up, which happens to be part of the reason why no one really throws them out. Instead, they usually end up in a box somewhere, cast aside and forgotten. Not anymore! This fun artsy project gives you the perfect reason for pulling those old crayons out of storage and now you can put them to good use once again. It involves making a vibrant, cool, and colorful work of art out of a few melted crayons. All that you really need is a cheap hot glue gun, a sturdy piece of canvas or paperboard, and some crayons of your choosing. A note of caution is to avoid using a nice or expensive glue gun because it will end up ruined and will not be salvageable. Also, make sure that the canvas material you use is not too flimsy because it does need to be able to hold up thick, melted crayon wax. If it bends, even slightly, the wax is more likely to crack, break apart, and eventually fall off of it.
First things first, before you start any painting set up a work area and put a drop cloth down to protect it. This can and will get very messy. Plug in the glue gun and when it's nice and hot feed a crayon stick into it. Pull the trigger to release the melted crayon and squirt it onto the canvas wherever you'd like it to go. You can drip the melted wax on, spray it, flick it, or try to paint with it in a more controlled fashion. When your done with one color, grab another stick and repeat the process until you are satisfied with your masterpiece. Allow it to fully set and dry for a little while and then you can frame it!
This fun project is the perfect activity to do with kids, family, and friends. However, make sure to supervise young children at all times and don't allow them to handle hot glue guns since they can be very dangerous and you don't want to risk anyone getting burned. Plus, with this type of craft project the possibilities are endless and you can make custom art for any room in the house. It's easy to go a step further and to add on additional touches that make it even more appealing and fun. Try using glitter, different paints, a picture or collage background, and so on. It's not only a great way to use up old crayon pieces, but also a nice way to spend an afternoon making art and bonding with your kids!